Date:
Time: 18:00 - 19:00
Location: School of English Foyer
Categories: Reading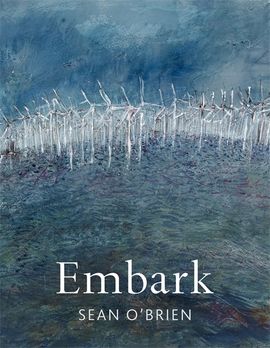 Embark, from Picador, is the latest collection from multi-award-winning poet Sean O'Brien. Join us to hear him read from this important new work on Thursday 1st December at 18.00 in the foyer of the School of English.
'Given the nature of our times, his voice is an essential one: there is no other poet currently writing with O'Brien's intellectual authority, historical literacy and sheer command of the facts. Embark also registers our unique cultural climacteric, where the larger crises of the planet – the pandemic and the terrifying spectre of revanchist nationalism among them – impact all of us, and where the illusion of a church-and-state separation of the personal and political can no longer hold. As the poet turns seventy, he shows us how the inevitable absences that age brings are assuaged by how we furnish them; the result is not just a logic made from loss and pain, but a music, a metaphysic, and finally a redemptive art. Embark reminds us of the enduring consolations of love, of friendship, of the freedoms and possible futures still afforded by the imagination – and, through O'Brien's own exemplary model, of poetry itself.'
Embark is Sean O'Brien's eleventh collection of poems. It marks his seventieth birthday. Central themes of his work include history, politics, landscape and the workings of the imagination. In this new collection elegy and love poems are also significant features.
O'Brien is the recipient of numerous awards, including the T.S. Eliot and Forward Prizes, as well as being a novelist, short story writer, translator, librettist and critic. Now Emeritus Professor of Creative Writing at Newcastle University, he is a Fellow of the Royal Society of Literature. Forthcoming work includes the chapbook Impasse: Poems for Jules Maigret (Hercules Editions, Spring 2023). He has held fellowships at Dundee, Durham and Newcastle Universities. In 2017 he was Weidenfeld Visiting Professor at St Anne's College, Oxford. He was also, many years ago, Writing Fellow in the School of English at Leeds.
All welcome. Admission free.